Slingsby, Baronets of Nova Scotia.
Coats of Arms.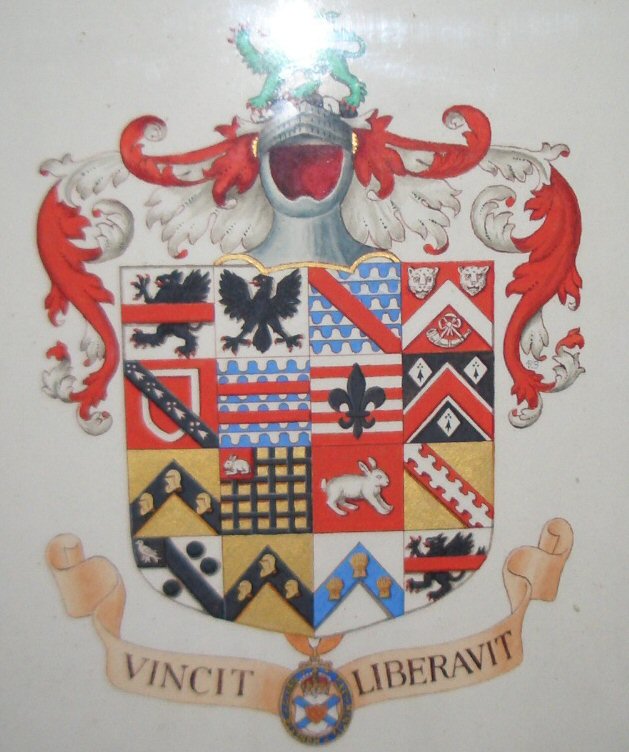 Top row from left to right:
Slingsby: Argent, a griffin segreant sable, debruised of a fesse gules.
Stodleigh: Argent an eagle displayed sable.
Mancester: Valr, a bend gules.
Scriven: Gules, a chevron between two leopards' faces in chief and a bugle horn in base argent.
Second Row from left to right.
Markington: Gules, an orle argent, over all a bend ermines.
Walkingham: Vair, two bars gules.
Staveley: Barry of eight argent and gules, a fleur-de-lys sable.
Caperon: Sable, on a chevron betw three lozenges argent, each lozenge charged with an erm spot, another cheu gules.
Third Row from left to right:
Scotton: Or, on a chevron sable, three esquires helmets of the field.
Brereton: Or, fretty of pieces disposed palewise and barwise sable, on a canton gules, a coney argent.
Sawley: Gules, a coney contourne argent.
Nesfield: Or, a bend gules, charged with another nebuly argent.
Fourth Row from left to right:
Warde: Argent, a bend sable, between three pellets on a canton of the second , a martlet of the field. Scotton: Or, on a chevron sable, three esquires helmets of the field.
Craddock: Argent, on a chevron azure, three garbs or.
Slingsby: Argent, a griffin segreant sable, debruised of a fesse gules. <back>